Bronx Things To Do This Weekend
Gardens, Zoo, Art, Theater, Film & History
* February 16, 2018 / Things To Do Bronx / Bronx Neighborhoods / Bronx Buzz NYC.
* Weather. The temperature highs will be around 60 Friday, descending to 40 on Saturday, and rising to near 50 on Sunday. The temperature lows will be in the low to mid 30's all weekend.
* There's an 80% chance of some rain between 5 and 6 pm Friday. About 1 to 3 inches of snow is expected Saturday beginning around 5 pm, ending Sunday about 3 am. On Sunday it should be clear.
* Winds will be between 15 to 20 mph Friday and about 10 mph through the weekend. The humidity will be in the high 50% range throughout the weekend. Click for Bronx Weather.
The photo at right shows a personal statement being made by a subway rider. Mahatma Ghandi said, "Live the change you want to see."
Only Asterisked events have been updated.
Friday & Weekend - Zoo, Botanical Gardens & History
The photo at right shows the top of the the New York Botanical Gardens near the Fordham, Norwood & Belmont neighborhoods of the Bronx.
* The New York Botanical Gardens at 2900 Southern Blvd near the Norwood, Fordham and Belmont neighborhoods is home to a number of other interesting exhibits, including copies of Darwin's first editions and a somewhat virgin forest dating back a couple of centuries [10am - 6pm / kids / $23 / $20 / $10 / under 2 free].
* The Bronx Zoo at 2300 Southern Blvd offers a variety of activities for adults and kids including Sea Lion & Penguin feedings, Camel rides, Bug Carousel rides, 4 D Theater, Wild Asia Monorail and a Zoo Shuttle . The zoo is open and costs $27 for kids and $37 for adults or a year-long family pass which includes membership for $200.
* The Bronx Historical Society is located at 3309 Bainbridge Avenue at 208th Street in the Norwood neighborhood. The Society also runs the Edgar Allan Poe Cottage at 2640 Grand Concourse at East Kingsbridge Road in the Belmont neighborhood is open Thursday & Friday 10 am – 3 pm, and both Poe Cottage and the Bronx Historical Society are open Saturday 10 am - 4 pm and Sunday 1 pm - 5 pm [$5 / $3 / history].
Saturday - Film & Art - some events next week
The photo at right shows construction work underway in the Mott Haven / Port Morris neighborhoods of the Bronx.
* The Bronx Art Space at 301 East 140th Street - #1 in the Concourse neighborhood of the Bronx is hosting an exhibit entitled Historical Amnesia from February 14th thru March 24 [art / free]. The exhibit is
"Curated by Gabriel de Guzman, Historical Amnesia exposes and grapples with the lasting effects of colonialism, exoticism, and intolerance on today's culture. Featuring Kris Grey, Sara Jimenez, jc lenochan, Joiri Minaya, and Jade Yumang, artists sift through forms of loss, obscurity, and trauma by using the body as a conduit."
The Lehman College Performing Arts Center at 250 Bedford Park Blvd is hosting a performance by xyz beginning at 8 pm [music / $25].
* On Thursday, February 22nd at the Bronx Doc Film Center at 614 Courtlandt Avenue in the Melrose neighborhood of the Bronx, there's a film screening session in connection with an ongoing fatherhood series entitled Father Figure: Portraying African American Fatherhood Pops beginning at 7 pm and the screening will be followed by a conversation with a filmmaker and visual artist [rsvp at www.bronxdoc.org / I think it's free].

* On Friday February 23 from 7 - 9 pm. There is an event, entitled THE BX SPEAKEASY BRONX NATIVE NIGHTS: ANARCH-Y (REMIX), at the Bronx Museum at 1040 Grand Concourse at 165th Street in the Concourse neighborhood of the Bronx. The event features punk bands and Latin artists. Donations should be made at eventbrite [art / music & I think it's free].
Sunday - Museum, Zoo & Gardens
The photo at right shows one of many railyards in the Bronx.
The ID Studio Theater at 311 East 140th Street [off 3rd Avenue] in the Mott Haven neighborhood of the Bronx is hosting a xyz [theater / not sure but it's either free or for a small donation].
* The Bronx Museum at 1040 Grand Concourse at 165th Street in the Concourse neighborhood of the Bronx is open, as are venues like the Bronx Zoo, NY Botanical Gardens and Wave Hill that run events or provide access on weekend - see details above.
At Wave Hill at 649 West 249th Street in the Hudson Hill section of the Riverdale neighborhood there's a performance by TBD [$28 / $24 includes admission / history]. There's also usually a Garden Walk given free with admission beginning at 11 am, except on Sundays when it begins at 2 pm.
Next Week Beginning 2.19.18 - Presidents Day
On Monday, we celebrate Presidents Day, honoring the presidents who served the nation - not themselves.
Click here for a listing of some suggestions we gave for Valentines Day restaurants in the Bronx.
Through the week at Hostos College in the Longwood Art Gallery at 450 Grand Concourse off 149th Street is hosting an exhibit entitled Her Art Will Be Cannibal which is about the female perspective on patriarchy, race and class in multi-media [free /art].
Bronx Farmers Mkts, Street Fairs, Member Events Calendar
Click here for reports about Bronx holiday events and here for Bronx holiday markets. And click here for report about Bronx street fairs, Bronx farmers markets, Bronx shopping venues and restaurants in the Bronx.

Also see Friday & Weekend Events above.
---
Bronx Valentines Day Restaurants - Bronx NYC
Bronx Valentines Day Restaurants in the Bronx
Valentines Day Restaurants in or near Mott Haven, Fordham, Port Morris, Concourse, Bedford Park, Norwood, University Heights, City Island, Riverdale, Melrose, Morris Park, Westchester Square & Parkschester Bronx NYC
February 2018 / Bronx Neighborhoods / Bronx Restaurants / Bronx Buzz NYC.
Valentine's Day is about a week away. It's a good time to let your loved one know you care. Flowers, gifts and dinner are always welcome treats, and / or some thoughtful gesture that shows that the lady [or man] you're with still means a lot to you.
It's generally hard to make restaurant reservations on short notice at a romantic Bronx restaurant on Valentine's Day, and sometimes it's difficult to make them for the weekend preceding Valentine's Day. So if you're thinking about doing something this Valentine's Day for dinner in or around the Mott Haven, Fordham, Port Morris, Concourse, Bedford Park, Norwood, University Heights, City Island, Riverdale, Melrose, Morris Park, Westchester Square & Parkschester neighborhoods; it's best to do your research early, and call a week or at least a few days ahead to make the reservations.
Valentine's Day History - Romantic Restaurants in the Bronx
The origins of Valentine's Day are not well documented. It's believed to have been named after Saint Valentine who was apparently a Catholic martyr who died over 1500 years ago. Today the holiday is not associated with religion so much as flowers, candies, cards and romantic dinners. And the holiday spokesperson is now Cupid, a Roman god of desire, and quite a mischief maker.
Click this link to view a brief guide of Valentine's Day restaurants in Manhattan where you will find short descriptions or links to Bronx restaurants we've visited in the past or have reviewed. The restaurants we've reviewed include a mix of high, medium and budget priced restaurants that are spread throughout the borough and offer a large variety of ethnic cuisines. Enjoy.
---
Diaz to Give State of the Boro Address
Bronx Borough President Ruben Diaz to Give State of the Borough of Bronx Address 2/22/18
January 29, 2018 / Bronx Neighborhoods / Bronx Politics & Government / Bronx Buzz NYC.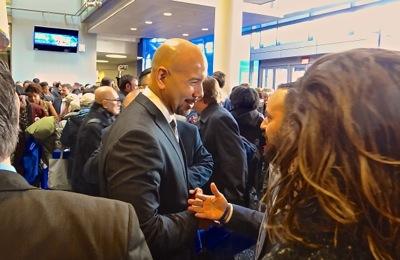 Last Friday I briefly met Bronx Borough President Ruben Diaz Jr. at the Frank Sinatra School in Astoria Queens. We were both attending Melinda Katz State of the Borough Address to Queens. Bronx Borough President Diaz was there along side a number of other elected officials including but not limited to U.S. Senator Chuck Schumer, NYS State Senator Leroy Comrie, and a number of mostly Queens NY City Councilmembers.
The Bronx Borough President is slated to give his Bronx State of the Borough Address on Thursday, February 22nd at the Bronx High School of Science at 75 West 205th Street at Goulden Avenue near the Jerome Park Reservoir in the Jerome Park / Bedford Park neighborhood of the Bronx. The doors open at 10.30 am and the speech is slated to begin at 11.30 am. You can rsvp a free ticket / seat by going to www.bronxboropres.nyc.gov.
Diaz entered politics at age 23, one of the youngest people to enter the legislature since Theodore Roosevelt, according to Wikipedia. Wikipedia also notes that Diaz graduated from Lehman College in the Bronx with a degree in Political Theory.
Diaz has been Bronx Borough President since 2009, and this will be his eighth State of the Borough Address. Diaz was allowed to serve three terms as Bronx President [the office is currently limited to two four year terms], due to a roll back of term limits by Mayor Bloomberg, so Bloomberg could legally serve a third term as the Mayor. The term limits were then reinstated in 2010 after Bloomberg won the third term, but the elected officeholders in place at the time [which included Bronx Borough President Diaz], were allowed to serve a third term, based on the legislation guiding the reinstated term limits.
In any case, I am looking forward to hearing what Bronx Borough President Diaz has to say.
---
Andrew Freedman Home in the Bronx
Early 1920's Old Folks Home in Continuing State of Transition
January 22, 2018 / South Bronx Neighborhood / Bronx Real Estate & Business / Bronx Live Music / Bronx History / Bronx Buzz NYC.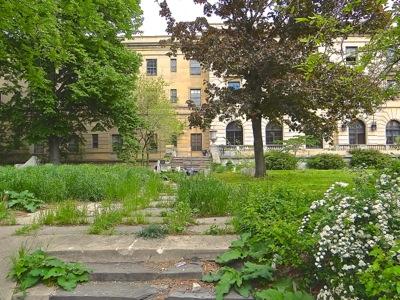 Last summer I made my way north along the Grand Concourse, past the Bronx Museum to take a look at the legendary Andrew Freeman Home. The home was built about four stories high and of limestone following Freedman's death in 1915. Construction began in 1922 and it opened in 1924. In 1992 it became a designated New York City landmark. In the photo at right you can see the Andrew Freedman Home standing three stories high, as the fourth story is at the ground level in the back of the building.
The man who founded the home, was the legendary Andrew Freedman, who was born in 1860 and went on to become the owner of the National League New York Giants baseball team from 1895 to 1907. The New York Giants baseball team is said to have tried to deprive the New York Highlanders, which are the present day New York Yankees, of getting a start in baseball, by preventing them from playing at the Manhattan Polo Grounds, which were located at the northeast end of Central Park in Harlem.
The New York Giants were founded in 1883 and moved out to San Francisco after the 1957 season ended, in the same year that the Brooklyn Dodgers moved out to Los Angeles - thus bringing the teams' ongoing rivalry with them to the west coast- while leaving New York City with only one baseball team - the New York Yankees. The Brooklyn Dodgers were said to have departed the city because they were having trouble with NYC's Master Builder Robert Moses, regarding the use of a proper baseball stadium. Andrew Freedman also purchased controlling ownership in the Baltimore Orioles of the American League for a short period of time.
According to Wikipedia Andrew Freedman's other two claims to fame are that he served on the Board of the Wright [Brothers] Company selling airplanes and as a Founding Director and shareholder of the
Interborough Rapid Transit aka IRT, which opened in 1902 and began operating New York City's first private subway line in 1904. The first IRT subway line went from City Hall to 145th and Broadway, which was 20 blocks short of reaching Hilltop Park at 165th Street and Broadway, where the Highlanders [present day Yankees] played baseball. And the IRT gained a monopoly on inner city rail transport when it acquired the elevated trains in 1903, which also included an extension into the Bronx.
The Andrew Freedman Home remained a senior residence from its inception in 1924 until the mid 1960's when Andrew Freedman's estate began to run out of cash and residents were required to contribute. Somewhere between the early 1980's [1982 - 1983] and the late 1990's [1997] the Mid Bronx Council, a charitable organization helping the elderly and poor, began using the building to provide their client services. In the 21st century they have continued their work, partnering with the 161st Street Business Improvement District and surrounding arts and cultural organizations, to expand the use and visibility of the facility.
On February 3rd and 4th there will be a Hip Hop performance by Grand Master Caz from 8.30 pm to 3 am. Tickets cost $25 and may be purchased on Eventbrite.
---
The Road Ahead 2018
A Few Axioms To Keep In Mind Throughout The New Year
January 2, 2018 / Bronx Neighborhoods / Bronx Holidays / Bronx Buzz NYC.
For many of us, yesterday started the beginning of the new year.
I used to make new years resolutions that generally lasted a few days or few weeks. Over time I've given that up and have focused on a few guiding principles that I work toward throughout the year, every year.
1. The first guidepost is to keep things as simple as possible by letting things go, so I can change and evolve who I am. Over time it's important to learn to let go of the past which includes letting many of the people, projects and things - that were once so meaningful and relevant - fade away with time. This process involves discarding much of what one collects, in order to open up life to make room for new possibilities.
2. The second guidepost is to take care of the vessel that carries one's being - meaning taking care of the body because it's the only one we'll ever get, and it has to last an entire lifetime. This means consuming the foods that will enable the body to function properly and ward off disease, while recognizing that satisfying the mind is important too, as it's a part of the body. There are three elements to this guideline.
a _ Try to maximize consumption of natural foods while managing / minimalizing consumption of the delicious processed foods that come in packages. Read package container nutrition labels which indicate the amount of fat, sugar, sodium and cholesterol consumed per serving. The balance of natural and processed foods will shift depending on what's going on in life.
b _ Reduce consumption of toxins by first paying attention to the quantities consumed of them, and then by substituting the toxins with healthier choices. For example dilute a soft drink with seltzer water [cuts sugar], or swap in a lemonade for a beer [cuts alcohol], or swap in pretzels for potato chips [cuts salt and fat]. Over the years these little substitutions can add up to some fair measure of weight loss, and can aid in maintaining generally good health. But it's also important not to deprive oneself, too much, of some of the simple pleasures in life that keep one going - because my experience has been that whenever I'm too draconian, there's a subconscious rebellion, and the program doesn't work.
c _ The third element of this guidepost is to try to walk and bike whenever possible. It's a good way to kill two birds with one stone as it enables getting somewhere, while also getting some exercise. And be sure to carve out enough time each night, for a proper rest.
3. The third guidepost is to try to move your life in the direction of your interests. This will likely take a great many years, as well as needing to make a good number of economic and other trade offs. But if successful, one can then spend most of their time doing the things that totally engage them. It's said that "when someone is doing something they truly love, they'll never have to work another day in their life."
4. And the fourth guidepost is to keep on learning, because "luck is when preparation meets opportunity". So the more you learn, and the more experience you get, the better prepared you'll be ... come what may.
May your new year be filled with promise and possibilities. Best wishes for a happy and successful 2018.
---
Trump Tax Plan: A Morally Bankrupt President's Gift?
Are Billionaires Trump & Murdoch Bilking America's Unborn Babies?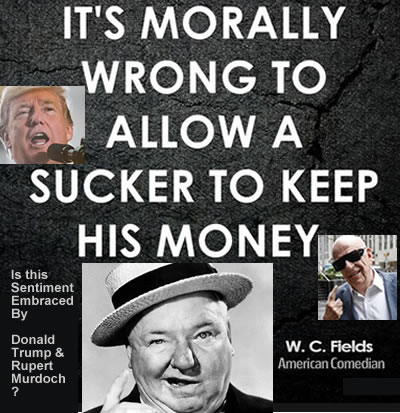 Updated 12/26/17 _ December 19, 2017 / New York City Neighborhoods / New York City Business / News Analysis & Opinion / Gotham Buzz NYC.
Like many of you, I have been watching the Trump Tax plan make its way through Congress. While Trump and his cohorts were whipping together the tax package, I was doing research on the possible implications of some of their tax policy proposals.
According to an October 20, 2017 PolitiFact report [based on the plan at that time, which has since been modified],
"... in the first year of changes, the top 1 percent are projected to draw a little over half the tax savings. The threshold of 80 percent going to the top 1 percent is projected for the tenth year."
While directionally this statement is likely to hold [meaning the plan is biased toward the rich], the exact numbers as to how biased the Trump Tax Plan will be for the wealthy - based on the final bill - remains to be calculated.
In this report we look at a number of tax cuts included in the final bill including repatriation of overseas profits, reduction of the estate tax, reduction of the corporate tax and the blue vs red state tax increase. We include a review questioning why the Trump Administration is pushing this deficit expanding / debt increasing fiscal stimulus package - when we're in a full employment economy with rising wages. We also include how the Trump Tax Cut Plan has been treated propagandistically by Rupert Murdoch's media outlets, as he appears to personally and corporately benefit immensely from the tax cuts.
But before we begin, we take you on a quick review at some key characteristics and prior dealings of the man behind the plan – Donald J. Trump.
I. Character & The Art of the Deal - Or Steal?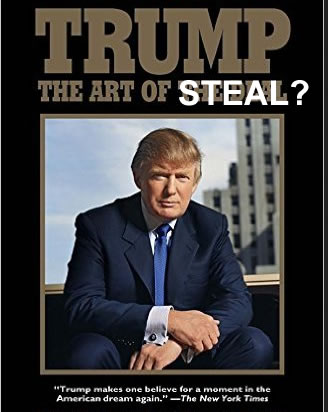 In Donald Trump's book The Art of the Deal, he says,
"You can't con people, at least not for long. You can create excitement, you can do wonderful promotion and get all kinds of press, and you can throw in a little hyperbole. But if you don't deliver the goods, people will eventually catch on …"
Is the Trump Tax Plan a Tax Boondoggle for Billionaires?
Based on recent polls regarding the Trump Tax Plan, it appears the American people are of the opinion that this a very bad deal for them and their children. Perhaps this is why the Donald appears to be rushing through what appears to be one of the greatest tax billionaire boondoggles in modern history, while telling the public that this tax plan isn't good for him ... or his super rich family and friends.
Always Pay Attention to a Person's Integrity or Lack Thereof
To listen to the Donald, you'd think he has always been a champion, if not a living martyr, of the middle and working classes of America. But the facts don't always square with the Donald's narratives. And the Donald, seems never to admit blame. That's why he has continually lashed out at the media who inform the public about him – calling all, but Rupert Murdoch's vast mass manipulation media [Fox News, Wall Street Journal & NY Post], Fake News. Trump and Murdoch live in the Bizarro World, where so much of what they say appears to be the truth turned upside down.
In the graphic at right, I modified Rupert Murdoch's Fox News website front page celebrating the passage of Trump Tax Plan - in which it appears that the bulk of the breaks will go to the super-rich, including the multi-billionaire Murdoch, who is a global propagandist and powerful Trump supporter. I call this Murdoch's propaganda payout and it appears to be HUGE.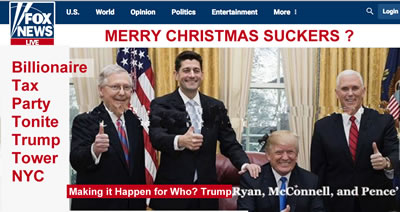 Law and Crime, a web magazine funded in part by A & E Network, states in a February 16, 2016 report that Trump was named in at least 169 Federal Lawsuits. They went on to say that,
"The federal lawsuits that we reviewed date back to 1983 and involve everything from business disputes, antitrust claims and, more recently, accusations that Trump's campaign statements are discriminatory against minorities. Some of the cases have been resolved, some were dismissed as frivolous, and others were privately settled. He's been sued by celebrities, personal assistants, prisoners, people in mental hospitals, unions, and wealthy businessmen. Of course, Donald Trump has also done his fair share of suing as well."
Slippery Donald – A Sales Promoter Who Must be Watched Carefully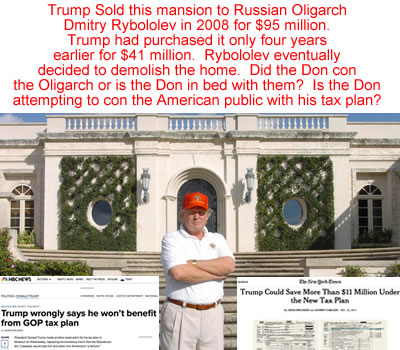 Watching Trump promote and sell his tax plan to the American public reminded me of a report about how the Donald sold a Palm Beach mansion - Maison de L'Amitie at 515 North Country Road - to Russian Oligarch Dmitry Rybolovlev in 2009. In a July 28, 2016 story in Politico, reporter Jose Lambiet says of the deal,
"This is what he [Trump] does with everything. He puts a little veneer on things and he doubles the price, and people buy it," … "He's [Trump] all smoke and mirrors—and that house was the proof."
Dmitry, the Russian Oligarch, paid $95 million for what Trump had paid only $41 million just four years earlier. Dmitry is now reportedly planning to demolish the mansion.
The question is whether the Donald snuck one by the Russian Oligarch, or whether the Donald is in cahoots with the Russian Oligarchs, and this was an indication of such?
The graphic / photo at right shows Trump standing in front of the Maison de L'Amitie. In the lower left I added his claim that he wouldn't benefit from the Trump Tax Plan as reported by NBC News on November 29, 2017; while in the lower right is a December 22, 2017 New York Times analysis indicating that the Trump Tax Cuts might enable him to take advantage of $11 million in tax breaks.
II. Trump & The Russian Oligarchs
Are These Birds of a Feather Flocking Together?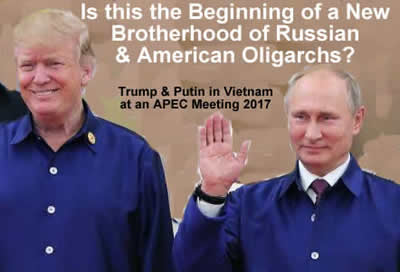 A July 13, 2017 report by the New Republic informs us that,
"In 2015, the Taj Mahal [controlled by Donald J. Trump] was fined $10 million—the highest penalty ever levied by the feds against a casino [in years] - and [they] admitted to having "willfully violated" anti-money-laundering regulations."
The report references the book, Red Mafiya, about the rise of the Russian mob in America, by investigative reporter Robert I. Friedman. It appears that the laundered money came from the Russian mob, and further in the story we learn a bit more about what appear to be the Donald's shadowy business dealings with Russia.
"In April 2013, a little more than two years before Trump rode the escalator to the ground floor of Trump Tower to kick off his presidential campaign, police burst into Unit 63A of the high-rise and rounded up 29 suspects in two gambling rings. The operation, which prosecutors called "the world's largest sports book," was run out of condos in TrumpTower—including the entire fifty-first floor of the building. In addition, unit 63A—acondo directly below one owned by Trump—served as the headquarters for a "sophisticated money-laundering scheme" that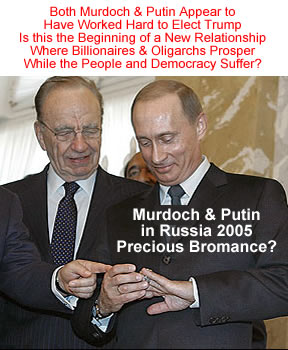 moved an estimated $100 million outof the former Soviet Union, through shell companies in Cyprus, and into investments in the United States. The entire operation, prosecutors say, was working under the protection of Alimzhan Tokhtakhounov, whom the FBI identified as a top Russian vor closely allied with Semion Mogilevich. In a single two-month stretch, according to the federal indictment, the money launderers paid Tokhtakhounov $10 million.
Tokhtakhounov, who had been indicted a decade earlier for conspiring to fix the ice-skating competition at the 2002 Winter Olympics, was the only suspect to elude arrest. For the next seven months, the Russian crime boss fell off the radar of Interpol, which had issued a red alert. Then, in November 2013, he suddenly appeared live on international television—sitting in the audience at the Miss Universe pageant in Moscow. Tokhtakhounov was in the VIP section, just a few seats away from the pageant owner, Donald Trump.
After the pageant, Trump bragged about all the powerful Russians who had turned out that night, just to see him. "Almost all of the oligarchs were in the room," he told Real Estate Weekly."
A Tax Plan for the new American Oligarchs?

The U.S. has a Full Employment Economy & Wages are Rising
So Why is Trump Promoting Fiscal Stimulus in a Full Employment Economy?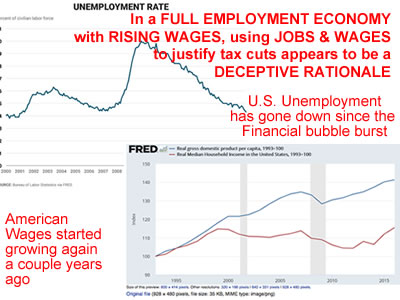 Over the past few years the economy has been steadily adding new jobs, and wages have been rising. The unemployment rate is 4.1%, which means the U.S. is operating in a full employment economy. A full employment economy is defined as one where everyone who wants a job, has one, except those who are in transition. Normal transitioning is generally estimated at 5% of those who are employed. These transitioning unemployed workers are those workers who are making the change from school to jobs or vice versa, switching jobs or careers, moving from one locale to another, or making other relevant job or life changes such as illnesses etc..
So given we're in a full employment economy where wages are rising, why are we incurring over $1 trillion in new debt to give the richest people in the nation / world tax breaks? The new jobs, higher wages argument seems deceptive as it just doesn't seem to apply here.
Former NYC Mayor Bloomberg Says "This Tax Bill is a Trillion Dollar Blunder"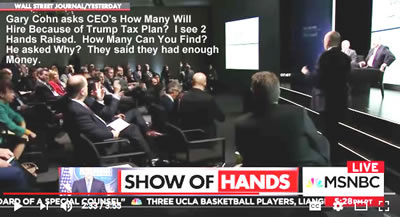 Former Republican Mayor Michael Bloomberg wrote an editorial dated December 15, 2017 on Bloomberg.com entitled "This Tax Bill is a Trillion Dollar Blunder".
In the editorial Bloomberg cites his rationale, including an anecdotal poll taken by Trump Economic Adviser Gary Cohn who on November 14, 2017 asked CEO's to raise their hands if they planned any additional hiring. In the video of the event I saw only two hands raised, and the moderator goes on to ask, 'Why weren't more hands raised?'. Go to YouTube.com and type in the search 'gary cohn asks ceos to raise hands' to see the video for yourself. The answer is that the top CEO's are sitting on trillions in cash, so a tax break isn't going to change the investment landscape for them with respect to adding jobs.
Bloomberg concluded his editorial with the following statement.
"The tax bill is an economically indefensible blunder that will harm our future."
It's also important to note that since the lows following the Great Recession of 2008 – 2009, wages have been going up between two and four percent, as measured on a quarterly basis.
---
Parkchester Neighborhood - St Raymonds Catholic Schools in the Bronx
St Raymonds Girls & Boys High Schools in the Bronx
St Raymond's is the Oldest Catholic Church & Largest Cemetery in the Bronx
December 10, 2017 / Parkchester Neighborhood East Bronx / Bronx Private Schools / Bronx Buzz NYC.
This past summer I took a long bike ride from Central Bronx to City Island. As I made my way along a busy East Tremont Avenue, I noticed a near magnificent Church with expansive surrounding grounds. I shot a few photos, and studied it for a while, taking note that this was St Raymonds in the Bronx. The cross street was Castle Hill Avenue and it was located in the northeast corner of Parkchester.
When I returned home, I looked up St. Raymonds, where I discovered a great deal of history and lore about the institution dating back 175 years to the post Colonial / Pre-Modern era of the Bronx.
St. Raymond's Parish in Parkchester in the Bronx
The land upon which the Church now stands, was purchased in 1842 by Reverend John Hughes who converted the barn into a church. In 1843 construction on a proper church began, and it was completed two years later in 1845 on the feast day of St. Raymond Nonnatus - which is where the parish got its name. St. Raymond Nonnatus spent his life freeing Christians from captivity in the 13th century in Spain and is considered a patron saint of pregnant mothers, because he was delivered by Caesarean section and his mother died. The church was the first Roman Catholic church erected in the Bronx.
---
ID Studio Theater in the Bronx
Theater Gives Voice & Builds Community in Mott Haven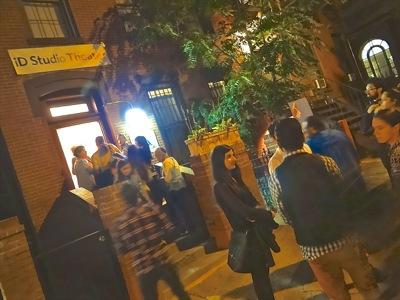 Posted December 5, 2017 / October 21, 2017 / Mott Haven Neighborhood Bronx / Bronx Theater & Dance / Bronx Buzz NYC.
I had an opportunity to visit the ID Studio Theater this Fall in Mott Haven. I briefly met the Artistic Director, German Jaramillo, who gave me a short tour of the theater, telling me that ID Studio Theater had moved into its new home to its new home at 311 East 140th Street in Mott Haven in the Fall of 2016.
German said he'd been working on renovating the ID Studio Theater new home ever since he'd arrived, to make it capable of providing rehearsal studio and performance space to work on new projects, community space and two studio apartments for visiting and affiliated performers. I had the opportunity to view the community space and the rehearsal space which are shown in the photos at right below. In the photo at right is the outside of ID Studio Theater in Mott Haven.
ID Studio Theater - The Performing Arts in Mott Haven Bronx
German told me that ID Studio Theater has been in existence for a long time - since 2001 in fact - at the dawn of the 21st century. The goal of the non-profit performing arts organization is to empower primarily poor, immigrant Latino communities through cultural expression and original works.
The night I visited ID Studio Theater, they were hosting a performance of Pedro Infante. Pedro Infante is a theatrical production by Toby Campion and directed by German Jaramillo that was a part of the Celebrate Mexico Now Festival. The Celebrate Mexico Now is a city-wide celebration of contemporary Mexican art and culture that is now in its 14th year.
Celebrate Mexico Now Festival
I had the opportunity to meet Claudia Norman, the Director and Founder of the Celebrate Mexico Now Festival. Shetold me that the festival was a celebration of Mexican culture including music, literature, cuisine, visual arts, film and theater. Every year since 2004 Claudia has organized the event with the help of people throughout four of the five boroughs,including Manhattan, Brooklyn, Queens and the Bronx. The event was an eight day affair [this year October 14 - 22].
Anyhow, there was a small crowd that had gathered on the lower level of ID Studio Theater in their community space where food and beverages were being served. People had come from the other
boroughs to view the performance of Pedro Infante. The storyline of Pedro Infante is about a grandmother who is living here taking care of her granddaughter because her daughter and husband work. She begins to yearn to return to the home country of Mexico. And then it happens ...
ID Studo Theater opened with this performance and they've been open ever since. You can check out their website for film showings, rehearsal space info and public performances at www.idstudiotheater.com and there's also a web presence on www.artslatinony.org that I found informative.
---
Bronx Holiday Events & Things To Do & Bronx Holiday Markets
Bronx Holiday Events & Things To Do / Bronx Holiday Markets
Bronx Christmas Tree Lightings, Bronx Hanukkah Menorah Lightings, Bronx Kwanzaa Candle Lightings & Bronx Holiday Markets
December 2017 / Bronx Neighborhoods / Bronx Holiday Events / Bronx Events & Things To Do / Bronx Shops & Shopping / Bronx Buzz NYC.
The holidays are a special time of the year. In ancient times there were harvest celebrations to give thanks and enjoy the bounty of the year after a long season / year of work. And there were also winter solstice celebrations to commemorate the end of the darkening of the skies. Some cultures celebrate with a festival of lights, and in Christian cultures the holidays are marked with holiday lighting, tree lightings, candle lightings - as well as the celebration of giving through the most well known and most generous man in the world - Santa Claus.
Meanwhile, back in the Bronx we celebrate in a number of ways, which carry on some of these ancient traditions. The following provides the dates / times / locales and some details regarding many of the various Bronx holiday celebrations and Bronx holiday markets for folks to enjoy between now and the end of the year.
Click here to read our report about Bronx Holiday Events / Things To Do & Bronx Holiday Markets.
---
Bronx Art Space in Mott Haven
Bronx Cultural Space Provides Venue for Artistic Expression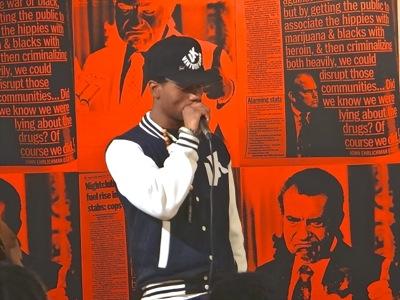 November 13, 2017 / Mott Haven Neighborhood / Arts & Culture in the Bronx / Bronx Buzz NYC.
A few weeks ago I visited the Bronx Art Space as part of my effort to in some measure capture [and release] the heart and soul of the Bronx in pixels. Beverly Emers was my primary contact and her guidance was invaluable not just into the Bronx Art Space, but also in introducing me in some small way to the surrounding community.
As a bit of background, the Bronx Art Space first opened in 2008 in the South Bronx to provide a communal artistic venue to local artists, musicians, film makers and performers. The Bronx Art Space was co-founded by Linda Cunningham and Mitsu Hadeishi.
I arrived on a Saturday evening to witness one of the Bronx Art Space Gatherings. In 2017 at the Bronx Art Space began hosting the Gatherings, which have been organized by James A. Brathwaite, who I met shortly after I arrived. James told me he's been organizing at least one Gathering per month. The Gatherings consist of performances by local talent which is offered free to the public.
James told me it's an opportunity for local dancers, musicians, comedians and performers to get in front of an audience to express themselves and show what they can do. At the time of the October 21st Gathering, James had organized and hosted nine of them year to date.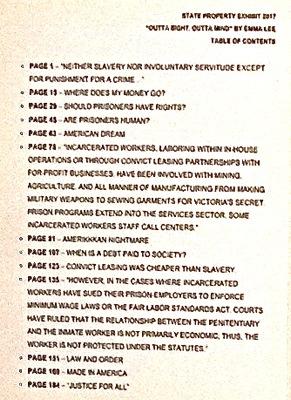 Beverly, was working at the Bronx Art Space as part of an internship through Hunter College. She's been studying to be a community organizer and from what I experienced in one longer-than-expected evening, I suspect she'll be quite successful. Beverly gave me a brief tour of some of the art hanging on the walls at the Bronx Art Space which as a whole made up the exhibit entitled State Property.
The theme of the State Property exhibit was about American consumerism of prison labor. Private companies profit through the employment of prison labor and other private for profit companies are paid to manage incarcerated populations. The issue is that there's a profit motive in keeping prisons populated and that was the message embedded in many of the works. One of the exhibits noted some of the multi-billion companies profiting from low cost prison labor, going on to contemplate that for some – slavery hasn't ended.
In March of 2017 Mayor de Blasio committed to closing Rikers Island prison over the course of the next ten years. A study was released recommending that the prison be replaced with smaller prisons dispersed throughout the city to keep prisoners near their families and friends, so that their personal ties / human and community networks can become part of their rehabilitation / safety net. Rikers Island prison has been the subject of federal investigations and community protests for alleged brutality and abuses.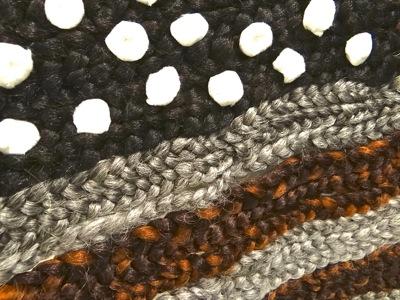 One of the biggest complaints is that many prisoners are held for very long periods of time – including minors – without being formally charged with crimes. Beverly told me the story about Kalief Browder, who was incarcerated at Rikers at age 16, held for three years without being charged with any crime. Kalief was held in solitary confinement for 23 days and reportedly beaten by both corrections officers and fellow inmates, so that when he was released he felt uncomfortable around other people and at age 23 he committed suicide.
The art works included an American flag made of spray painted human hair. Another exhibit showed tape markings identifying the spare amount of space prisoners are provided. And there were a number of other art works, including several former prisoners' reflections of their time spent in the pen. It was a thoughtful, moving exhibit that gave voice to the issues of those whose voices can't be heard.
I stayed for some of the performances too. Venture Klan was performing when I first arrived. They're a three member hip hop group from Harlem that started in 2007. They perform in the city and boroughs, and sometimes beyond. The three members are Ave Campbell, BukdaWorld and Leland Charles. You can find their work at www.ventureklan.com.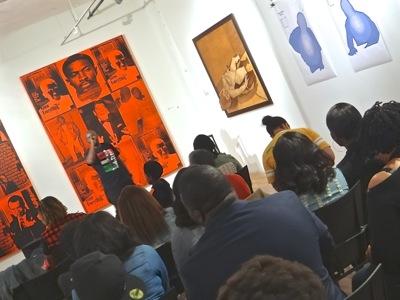 I also met a solo performer, who goes by the name of Classic. He's been performing for the past ten years and frequently does gigs with a couple of other musicians, but not tonight. He did vocals with background music that he creates with instrumentalists in Eastern Europe. He's currently in the process of copyrighting his work. You can find some of his work on www.weownitrecords.com.
Beverly also introduced me to one of the Bronx Art Space neighbors, the Artistic Director of ID Studio Theater, German Jaramillo. ID Studio Theater is a non-profit Latino arts theater organization that develops and performs new works. They moved into their new home next door to the Bronx Art Space in Mott Haven about a year ago [2016], and this evening there was a production being shown in tandem with the Mexico Now Festival, which was founded by Claudia Norman. Claudia told me about the Mexico Now Festival which is an NYC-wide festival celebrating Mexican culture.
Before I left, Beverly introduced me to one of the neighbors, an artist who has a studio just behind the Bronx Art Space – Maria Scapini of www.scapinistudio.com. I didn't get a chance to see her work as we only met briefly on our way out.
All in all it was an interesting and fun night out, but really just the beginning of getting to know what's doing in the Mott Haven neighborhood in the Bronx.
---
De Blasio Wins 2nd Term by Landslide
Nationally Democrats Pick up New Jersey & Hold onto Virginia
November 8, 2017 / NYC Neighborhoods / NYC Politics / Gotham Buzz NYC.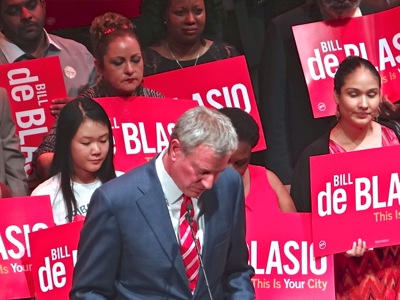 City-wide & Borough-wide Offices. Mayor de Blasio won a decisive victory against Republican challenger, Assemblywoman Nicole Malliotakis, on Tuesday by winning nearly 67% of the vote.
In fact it was a landslide for nearly all incumbent Democrats who won by comparably wide margins, including Letitia James for Public Advocate (74%), Scott Stringer for NYC Comptroller (77%), and all five Borough Presidents including Gale Brewer (Manhattan - 83%), Eric Adams (Brooklyn - 83%), Ruben Diaz (Bronx - 88%), Melinda Katz (Queens - 78%) and James Oddo (Staten Island - 75%).
Mayoral Election Results by Borough. De Blasio won four of the five boroughs by wide margins including roughly 5:1 in the Bronx, 3:1 in Manhattan and Brooklyn and approaching 2:1 in Queens. Malliotakis won her home borough of Staten Island approaching 3:1. Staten Island has a significantly smaller population than the other four boroughs as it has only between 20% and 30% the population of any of the other boroughs.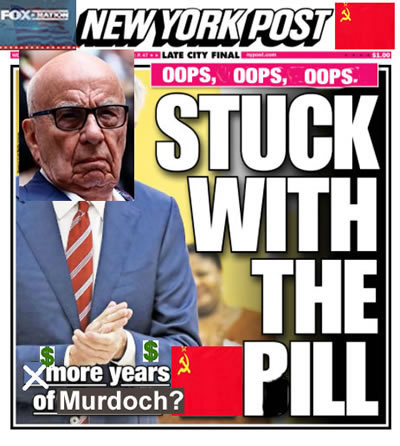 Trump Referendum & Job Performance Approval. Several pundits speculated that in a city where Democrats outnumber Republicans six to one - this was an NYC referendum on the Trump presidency. This may be so, but some mention should also be given to how well NYC is performing vis a vis other cities in terms of jobs creation, improving performance in the public schools, fiscal management and low crime rate.
Results for the Three NYS Proposals on Ballot. The first Proposal - to change the NYS Constitution - lost overwhelmingly with 83% voting NO. The second Proposal - to take away pensions of some government employees found guilty of some crimes - won overwhelmingly with 73% voting YES. And the third Proposal - to allow some 'development' in public parks won in a close vote - 52% vote YES while 48% voted NO.
New Jersey Governor Race. On the national front, newcomer Phil Murphy (D) beat Lieutenant Governor Kim Quadagno (R) in the governor race in New Jersey. Murphy received 55% of the vote while Quadagno received 43% of the vote. Murphy will replace Chris Christie (R) who has an approval rating of 19%. In exit polls, 11% said they cast their votes in support of Trump, while 32% said they cast their votes in opposition to Trump.
Virginia Governor Race. In Virginia, the latest polls were once again off significantly, predicting a tight race that wasn't. Democrat Lieutenant Governor Ralph Northam won 54% of the vote while Republican Ed Gillespie who was the former Chair of the Republican National Committee won 43% of the vote. Gillespie won the rural parts of the state, while Northam won the urban areas. Gillespie was reported to be using Trump-style campaign tactics to win the race, but from Japan, Trump distanced himself from Gillespie's loss.
We Elect Pols but Not Publishers. In the graphic at right, you can see the pill face of the unhappy Billionaire which I superimposed over the face of the Mayor. The power-hungry, media mogul's outlet had published the headline 'Stuck with the Bill' - which he published in defiance of the two-thirds of the NYC voters who came out to re-elect the Mayor. He appears to be working toward conquering the U.S. so he can make us a 'Fox Nation', like he did Australia.
We don't get to elect publishers, but every time you purchase one of his papers, or click into his TV stations or websites, you are indirectly supporting him [NY Post, Fox News, WWOR Ch9, WNYW Fox Ch5 and the WSJ]. Some of the people in his organizations do good work, but many of those he puts front and center, appear to be highly paid propagandist mouthpieces who push what appears to be his greedy, deceitful, power-grabbing agenda. The story below provides more detail.
---
NY Post Propaganda, Fox News Distortions & NYC Elections
Will Murdoch's Propaganda Outlets Impact NYC Municipal Elections & the NYS Ballot Referendums of 2017?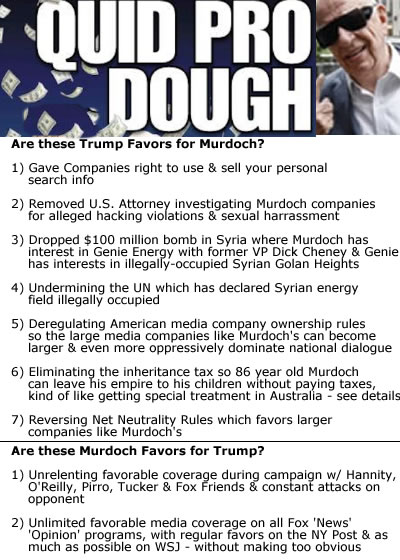 November 5, 2017 / NYC Neighborhoods / NYC Politics / News Analysis & Opinion / Gotham Buzz NYC.
How Reliable are the Polls?
On Tuesday November 7, 2017 New Yorkers have an opportunity to assert their will at the ballot box. While the polls indicate Mayor de Blasio will win re-election, it's important to recall that only a year ago, all but one of the polls forecast that Hillary Clinton would win the presidency.
Having reliable information sources is important to making good choices.
In the 2016 presidential election we saw a corruption of a lot of information that was published and videocast about the candidates, which was used in an attempt to manipulate voters' view of them - aka propaganda.
The following provides a look at the dominant NYC news information provider with an eye to how fair and accurate they have been in their reporting of NYC news. The report contains links to additional information related to this report, as well as additional information about the impending NYC Mayoral election.
Billionaire Murdoch's NY Post & Fox News Appear to have Spent the Past Couple Years Distorting NYC News
One billionaire, Keith Rupert Murdoch, controls a guesstimated 40% of the branded, local, major media outlets in New York City - including the
NY Post
Fox News Network
WWOR TV Channel 9
The Wall Street Journal
WFOX TV Channel 5
Murdoch appears to use his media outlets as one giant propaganda machine, pouring out billions of impressions around the world into unaware voters / consumers minds. The Murdoch media oftentimes appears to contain misleading, out-of-context narratives that seem intended to manipulate audiences into believing / feeling positively or negatively about politicians / government officials based on distorted reporting of allegations, sensationalizing nits and sometimes outright fictions fabricated or amplified by contributors of the Fox Fake News Factory. These impressions often enough appear to further Murdoch's insatiable appetite for money and power, by removing or promoting pols into positions where they can be used to advance Murdoch's profit-seeking interests.
---
---
Murdoch also controls a number of national publications he's acquired over the past decade or so, such as Barrons and National Geographic. Oftentimes, if not always, it appears that Murdoch changes editorial staff and reporting standards soon after Murdoch acquisitions have been completed. Generally those changes appear to change what was once a respected news organization into what seems to be a Murdoch propaganda machine. We've been reporting on what appears to be Rupert Murdoch's nefarious use and abuse of his media outlets in a series we've entitled Murdoch Media Madness / Fox Fake News / NY Post propaganda.
---
Yankee Stadium History: Concourse Neighborhood Bronx
A Bronx Institution Since 1923 was Rebuilt in 2009 with Taxpayer Funds on Public Parkland
October 8, 2017 / South Bronx Neighborhoods - Concourse / Bronx History / Bronx Things to do / Bronx Parks & Sports / Bronx Buzz NYC.
In 1901 the New York Yankees baseball team originated in Baltimore as the Orioles [no relation to present day team]. In 1903, they were purchased by casino man Frank J. Devery and former police chief William S. Farrell, and moved to New York, where they were renamed the Highlanders, because of a Scottish reference and because they played in Hilltop Park which is in present day Washington Heights. Today Hilltop Park is occupied by New York Presbyterian / Columbia University Medical Center at 165th Street and Broadway.
The New York Giants baseball team had reportedly tried to keep the Highlanders out of New York, by disallowing them the use of the Manhattan Polo Grounds as a venue. The Manhattan Polo Grounds was located in East Harlem at 112th Street west of 5th Avenue [and just north of Central Park], and it is where the New York Giants baseball team played.
In 1911 the Manhattan Polo Grounds burned down, and for a time, the NY Giants used Hilltop Park. While the Manhattan Polo Grounds was being rebuilt, relations between the two teams warmed. So, in 1913 the Highlanders baseball team started playing at the Manhattan Polo Grounds where the team was again renamed– this time as the New York Yankees .
The New York Yankees shared the Manhattan Polo Grounds Stadium with the New York Giants baseball team until the opening season of 1923, when they moved into their new stadium.
Click here to read our report about the history of Yankee Stadium in the Concourse neighborhood of the Bronx.
---
Mott Haven Historic District & St Mary's Park
Large Audience Attends SummerStage Music Gathering
August 14, 2017 / Mott Haven Neighborhood Bronx / Bronx Music / Bronx Buzz NYC.
On Sunday, July 30th, I attended the SummerStage concert in St Mary's Park in the Mott Haven neighborhood of the Bronx. The stage was set in the western side of the park, which opened up onto a large field, but also gave the advantage of providing 'balcony seats' where one could enjoy the concert watching and listening from the hills.
SummerStage Concerts Bronx: St Mary's Park Mott Haven
The SummerStage concert in St Mary's Park featured Lisa / Lisa who hit the national scene in 1985, in the year before she turned 20. The Hells Kitchen native and her 1980's group – Lisa Lisa and Cult Jam - took the hit single 'I Wonder if I Take You Home', to #1 on the Billboard Hot Club Dance Play chart for a week in June of 1985.
Lisa / Lisa is of Puerto Rican descent and was born and raised in Hells Kitchen in Manhattan. Lisa / Lisa was one of the wave of freestyle musicians to help usher in dance pop. In 1982 Michael Jackson released his best selling dance album Thriller which rose to become the world's best selling album – a title which I believe it still holds to this day. In 1984 - just two years later - teenager Lisa / Lisa and her Cult Jam band released 'I Wonder if I Take You Home', which as mentioned above, rose to number 1 atop Billboard Magazine's dance pop charts.
Lisa / Lisa shared the stage in concert where she had a male and female dancer who artistically interpreted her magical music while we in the audience moved to the rhythms. In the photo above right, Pop Dance Hip Hop musician Lisa / Lisa with one of the dancers at the SummerStage concert in St Mary's Park in the Mott Haven neighborhood of the Bronx.
The weather was a warm but dry 80 degrees as the sun was making its way west and we were sheltered by the St Mary's Park foliage. While most folks in attendance were adults there were also a number of families with children.
Mott Haven Historic District: Bronx
After the concert I made my way down past the Mott Haven Historic District to the #6 subway at 138th Street and Third Avenue. The Mott Haven Historic District is rather small, running along Alexander Avenue between 138th Street and 141st Street. The buildings date back to the
last half of the 19th century, when people were moving to the Bronx because rail transportation was enabling more easy movement of people and goods. Alexander Avenue is believed to have been named after Alexander Bathgate who was the Morris land holdings manager.
The photo at right shows some of the houses from the 19th century that still exist in the Mott Haven neighborhood of the Bronx.
The Morrises bought the land in the south Bronx in 1670 from Jonas Bronck, a Swedish immigrant and one of the original Bronx settlers and after whom the Bronx is named. Bronck in 1641, less than thirty years earlier, bought theland from the Dutch West India Company, which had purchased the lands from the Indians in 1639.
The Bronx neighborhood in which Alexander Avenue resides, is called Mott Haven, and was named after Jordan Mott. Mott was the inventor of the coal burning stove. In 1828 Mott opened up the first manufacturing facility in the Bronx, his ironworks. Today Mott Ironworks manhole covers are reportedly still in use today.
Also nearby is St Mary's Park where the SummerStage concert took place, as well as St Ann's Church, which is an Episcopalian Church where two generations of Lewis Morris are buried, as well as Gouverneur Morris. They are members of one of the founding families of the Bronx, second only to Jonas Bronck himself.
The Bronx SummerStage concert series is organized and sponsored by SummerStage and City Parks Foundation in tandem with the NYC Parks Department. SummerStage organizes several free concerts in Bronx each summer, including two concerts in Crotona Park in the Central Bronx.
---

Fordham University Rose Hill Campus in the Bronx
Fordham University Serves Approximately 15,000 Students
October 10, 2017 / Bronx Neighborhoods - Fordham / Bronx History / Bronx Colleges Universities Schools / Bronx Buzz NYC.
During my travels in the Bronx in the spring and summer of 2017 I could not help, but make a visit to Fordham University. According to Wikipedia Fordham University was originally founded as St. Johns College in 1841 and changed its name to Fordham University in 1907. Just a couple of years earlier, in 1904, they had begun both a graduate medical school and a graduate law school.
Wikipedia reports that Fordham University is the third oldest university in New York, and the oldest Catholic college / university in the northeast section of the United States. In 1969 the Board of Trustees was reorganized to include a majority of non clerical members, thus officially making Fordham University an independent institution.
Historically, Fordham has been known as a Jesuit school. The Fordham University website notes that their Rose Hill campus is comprised of 85 acres and that their ten schools – including the college, law school, medical school, business school, education & others] serves nearly 16,000 students. Of the total Fordham University student body, over 9,000 of the Fordham University students attend the college. As for locations, nearly 8,000 students attend Fordham University in the Bronx at their Rose Hill campus, while over 7,000 attend Fordham University at their Lincoln Center location. Fordham University also has a small outlet in Westchester County that serves about 500 students.
Fordham is a highly regarded school. According to U.S. News Fordham University is #60 in the ranking of 1600 colleges and universities in the U.S. That puts it in the top 4%, with high school counselors ranking them #42 and with their business program ranked #77. This kind of education doesn't come cheap as U.S. News noted that tuition and fees are pegged at $47,000 and room and board is estimated at $16,000.
Click here to read the rest of our report on the history of Fordham University in the Bronx neighborhood of Fordham and Belmont.
---
History of the Bronx Zoo in New York City
The Bronx Zoo is one of the Best City Zoos on the Planet
September 27, 2017 / Central Bronx Neighborhoods - Belmont / Bronx Things to do / Bronx Buzz NYC.
The Bronx Zoo is, as the headline says, one of the best zoos in the world. It offers visitors a day of amazing discoveries and safe exploration of natural wild life. The Bronx Zoo stands on 250 acres of land that is cut through by the Bronx River. Inside are tall trees, a wide array of bird species, wild jungle animals shown in habitats resembling their origin, polar mammals, gorillas, snaky reptiles and as Dorothy of the Wizard of Oz would say, "Lions and tigers and bears … Oh my!"
The Bronx Zoo is open from 10 am to 5 pm daily. They offer kids rides, a shuttle and select participation in the feedings. There are several public feedings scheduled daily including feeding the Sea Lions at 11 am and 3 pm, with the Penguins being fed at 3.30 pm. In addition they offer an assortment of programs for classes for school aged children and other groups.
The Bronx Zoo also offers a '4-D' theater where you can see real wildlife, a seasonal Asian monorail that takes you through a replicated Asian wildlife refuge, and seasonal camel rides. These are in addition to the feedings mentioned above.
There are four main entrances to the Bronx Zoo. The first is Gate A or the Asia Gate [Bug Carousel} located along the west side of the Bronx Zoo along toward Southern Blvd at about 183rd Street. The second is Gate B, is located off Boston Road, which you get to by heading south on Bronx Park East off the Pelham Parkway. This entrance is located along the east side of the zoo in the Pelham Parkway neighborhood. And the third is Gate C, which is located at the north end of the zoo – and home to the famous gates – along East Fordham Road between Southern Blvd between Bronx Park East. There's a fourth gate which is located off the parking area adjacent to the Gate B entrance, located on the south east area of the park.
The Bronx Zoo opened in 1899, a year after the City of New York allotted 250 acres to the New York Zoological Society to develop a zoo, to preserve native animals and promote an interest in Zoology. The Bronx Zoo opened as the New York Zoological Park.
A former Smithsonian employee who was a conservationist, zoologist, taxidermist and author, namely William Temple Hornaday, was signed on as the Director of the Bronx Zoo where he remained for the next 30 years. Hornaday was driven by the desire to build a world class zoological institution and by all accounts today, he appears to have succeeded.
Click here to read the rest of our report about the Bronx Zoo - things to do in the Bronx.
---

City Island Art Fair
Where City, Sea & Country Meet in the Bronx
September 18, 2017 / East Bronx Neighborhoods - City Island / Bronx Things To Do / Bronx Buzz NYC.
Just over a week ago, I made my way to City Island to take in their bi-annual art fair. The art fairs are organized by the City Island Chamber of Commerce and generally held the first weekend in June and the second weekend in September.
The art fair generally runs about three blocks along City Island Avenue [the main north / south street] between Fordham Street and Schofield Street. There's a small public space, Hawkins Park, which lies across from the Chamber of Commerce, and is generally the epicenter of all the fun. When I arrived there was a live band performing and some light food and beverage was being served.
It's a quaint art fair and has the faint air of a south Long Island beach town. Most of the residents show up for a spell, and the street fair offerings range from handmade drawings and paintings to jewelry to locally made culinary delights. But that's not all, as there are tables of objets d'art for the home, books, hand knit sweaters and scarves and leather goods.
Complementing the art fair offerings are the quaint stores and restaurants lining City Island Avenue. The shops that line the street offer antiques, old fashioned variety store offerings as well as ice cream, drinks and food.
There are a couple of tourist attractions on the island including the City Island Nautical Museum [only open weekends from about 12 noon to 5 pm] and the historic Samuel Pell house, which is privately owned.
Perhaps one of the biggest attractions is the sense of having gotten away. The small island isn't that populated yet, although the main street is pretty heavily trafficked given how remote the island is. But one can easily walk the island, and find water views at nearly every restaurant. On this particular day, it was warm and sunny and many folks were enjoying their meals outside.
City Island on the Bronx is where the city actually does get some sleep.
---

---
Golfing in Historic Van Cortlandt Park
September 2017 / Bronx Neighborhoods / Bronx Sports & Parks / Bronx Buzz NYC.
The Fall is a good time to get out the golfing clubs to continue or resume work on a golf game. The sport is aerobic and good for one's health, regardless of gender.
Van Cortlandt Park is home to one of the oldest continuous operational golf courses in the United States, dating back well over a century.
The Van Cortlandt golf course in the Van Cortlandt neighborhood of the Bronx is pretty easily accessible by subway, coming up along the Upper West Side of Manhattan on the #1 train.
In addtion to the golf course, there's a public swimming pool and an historic home that's worth a visit. Golfing with a cart costs about $46 / person for late-in-the-day golfing and $70 per person with a cart during prime time. Subtract about $20 for the cart on the off-hours and maybe subtract about $30 for the cart during prime time.
Also in Van Cortlandt Park is the Van Cortlandt House Museum. The Van Cortlandt House is reortedly the oldest house in the Bronx borough as it was built in 1746.
---

---
Farmers Markets & Street Fairs in the Bronx
August 26, 2017 / Bronx Farmers Markets / Bronx Street Fairs / Bronx Buzz NYC.
A few Bronx farmers markets might be open year round, but most of them are seasonal. Some of the seasonal Bronx farmers markets began opening in the Spring of 2017, with the rest of them having opened no later than the first couple of weeks in July of 2017. Click here to view the schedules of many of the farmers markets in the Bronx.
Bronx street fairs, on the other hand, are entirely seasonal. Some of them hit the streets as early as April 2017. Bronx street fairs rise markedly during the late spring and continue through the dog days of summer [July / August], including into the late part of the Fall. By the end of November the Bronx street fairs go on hiatus, with a few returning as early as April. Click here to view a full schedule of the Bronx street fairs.
---
---
Bronx New Years Eve Parties - Bronx New Years Even Restaurants & Bars New Years in the Bronx NYC
Bronx New Years Eve Parties & NYE Restaurants Bronx
New Years Eve Parties in Mott Haven, Port Morris, Melrose, Fordham, Concourse, Parkchester, Bedford Park, Belmont, University Heights Neighborhoods in the Bronx
December 29, 2017 / Bronx Neighborhoods / Bronx Holiday Events / Bronx Events & Things To Do / Bronx Restaurants NYC / Bronx Buzz NYC.
New Years Eve occurs on a Sunday this year, meaning that it's going to be one helluva party weekend. It looks like the celebrations begin as early as Thursday or Friday before winding down for the year.
While New Years Eve is one big party, it's important to keep in mind, that like St. Patrick's Day, all the amateurs come out to play [it's not just the Irish who are out on St. Patrick's Day]. So some measure of caution is advised and you have to be careful.
Click here to read more about our round up of New Years Eve parties in the Bronx - New Years Eve restaurants Bronx.
---
Click here to view our report about Bronx Halloween parties NYC.
---
---
Bronx Shopping Malls, Bronx Shopping Centers & Bronx Shopping Districts
A Changing Retail Landscape in the Bronx
Bronx Shopping Malls, Bronx Shopping Centers & Bronx Shopping Districts in Transformation
October 18, 2017 / Bronx Neighborhoods / Bronx Shops & Shopping Bronx / Bronx Buzz NYC.
This is a compendium of many, possibly most of, the largest shopping malls and shopping centers in the Bronx. Over the past decade or so a number of shopping malls have been erected and many existing shopping centers have been renovated / refurbished as the Bronx undergoes the process of transformation and in some areas, gentrification.
I've grouped the shopping malls by geographical location, using the same definitions used in the neighborhood section of this site - South Bronx, Central Bronx, Eastern Bronx and North & Western Bronx.
South Bronx Shopping Malls & Shopping Centers. The general boundaries for the South Bronx are the Harlem River to the south and west, the East River to the south and east, White Plains Road to the east and roughly the Cross Bronx Expressway at about 174th Street to the north.
Central Bronx Shopping Malls & Shopping Centers. The general boundaries for the Central Bronx are the Cross Bronx Expressway at about 174th Street to the south, the Bronx River Parkway [Morris Park & Bronx River Avenues] as well as the Bronx Zoo and NY Botanical Gardens to the east, Woodlawn Cemetery and Van Cortlandt Park to the north and the Major Deegan Expressway [Bailey Avenue] to the west.
North & West Bronx Shopping Malls & Shopping Centers. The Major Deegan Expressway [Bailey Avenue] to the east, the northern Bronx boundary around 263rd Street to the north, the Hudson River to the west and the Harlem River to the south.
East Bronx Shopping Malls & Shopping Centers. The northern boundary of the Bronx along the north at about Kingsbridge Road [rises further north for Wakefield], the Bronx River Expressway [along Bronx Park East] north of the Cross Bronx Expressway and White Plains Road south of the Cross Bronx Expressway on the west [about 172nd to 177th Streets] and the East River to the south and east [leading into the Long Island Sound].
Click here to read our report about the changing retail landscape in the Bronx, including a solid listing of most of the major Bronx shopping malls, Bronx shopping center and Bronx shopping districts in NYC.
---
Update: LaGuardia Airport Development Project
First Phase Moving Along with Second & Third Phases About to Begin
April 24, 2017 / Astoria Neighborhood / Queens Real Estate / Bronx Buzz NYC.
I attended a Community Board One meeting at the Astoria World Manor on Wednesday, April 19th. People representing the LaGuardia Airport development project were scheduled to provide the community with an update regarding several of the multi-billion dollar renovation projects associated with LaGuardia Airport, that are either currently in the works or nearing the end of the planning process.
The presentation was split into three parts: 1) LaGuardia Airport development project construction updates, 2) traffic mitigation efforts and 3) community outreach including job opportunities related to the projects.
Click here to read our report on the LaGuardia Airport development project & expansion, related job opportunities, its possible impact on travel times to the airport and the public hearing details on May 3rd, 2017 in Flushing. We have also included a small bit of history about the airport and the fight over the property and development in Flushing Meadows Corona Park. The graphic at right was created as part of the LaGuardia Airport development project.
---
Bronx & NYC Economy - 2016 Outlook NYC
Currently Full Employment, Low Interest Rates, Low Inflation But Possible International Shocks
January 4, 2016 / Bronx Neighborhoods / Bronx Business / Bronx Buzz NYC.
We took a look into the crystal ball over the holiday break to see what may lie ahead for the NYC economy in the coming year. We studied the stats and facts put out by many of the national data producers at the Bureau of Labor Statistics, the Federal Reserve, the Treasury Department and the AIE. What follows is a brief summary of some of the statistics we gathered on the global, national and New York City economy including unemployment statistics by borough for 2015.
U.S. & NYC Economy Near / At Full Employment
Currently Queens and Manhattan are doing the best with respect to employment, with unemployment rates below 5%, which economists consider to be full employment as the 5% unemployed are viewed as normal 'friction' in the economy, accounting for people coming into, leaving and changing jobs within the labor force.
In 2009 - 2010, during the first two years of the Great Recession, the nation's unemployment rate hit 9.4%, while the unemployment rate for New York City hit 10.4%. The employment picture for the nation and the five boroughs of New York City has slowly but steadily improved since then, with unemployment trending lower, reaching full employment this year at 5% for the nation and 4.8% for New York City this fall.
Employment Impact / Relationship to Inflation
Employment affects inflation, as when everyone is fully employed, recruiting firms bid up the price of labor and workers feel secure enough to spend aggressively, bidding up the price of goods. The Federal Reserve attempts to reign in inflation - because it creates economic instability - by raising interest rates which increases the cost of capital needed to expand operations or make large purchases more expensive. On December 16, 2015, the Federal Reserve raised its key short-term interest rate by 25 basis points (0.25%) to begin to get ahead of potentially inflationary issues that may lie ahead. We'll look into a few of these later in this report.
Economists in one of the banking reports I received believe that there is still slack in the labor market that is not reflected in the numbers as many people have part-time jobs, while they would like full time jobs. Also the labor force participation rate fell during the Great Recession and it became more difficult to find work. Now with a full employment economy it is believed that some of those folks who gave up looking will try to re-enter the workforce. An example of the decline in participation rate might be a spouse who helped supplement household income but couldn't find the right work, and now starts looking again.
Click here to continue reading our report about the New York City NYC Economy Outlook 2016 which delves into full employment impact on inflation, interest rates, consumer debt levels, oil & commodity prices, domestic and international currencies & economic growth, the financial markets and how all of this may impact the different sectors of the Queens & New York City economy.
---
Bronx Dominican Parade & Festival Duartino
July 30, 2017 / Concourse Neighborhood Bronx / Bronx Holidays & Parades / Bronx Buzz NYC.
I headed up to the Concourse neighborhood of the Bronx on Sunday to watch the Bronx Dominican Parade. The Bronx Dominican Parade is in its 28th year [started 1990] and is not to be confused with the Manhattan / Washington Heights Dominican Parade which was started in 1982. The Bronx Dominican Parade generally precedes the Washington Heights Dominican Parade by a couple of weeks - occuring at the end of July - while the Manhattan Washington Heights Dominican Parade generally occurs in alignment with the second independence by Dominicans which began around mid August. There is also a Dominican Parade in Queens in the Jackson Heights / Corona neighborhood around the same couple of weeks as these.
The Concourse neighborhood of the Bronx runs along the Grand Concourse which is a wide sweeping four mile boulevard modeled after the Champs Elysees in Paris. The boulevard is lined with art deco buildings erected in the 1920's and 1930's, most of which appear to be in fairly good shape given their age. The expansive boulevard provides ample space for anyone hoping to get a front row view of the parade, even though thousands had come out to see it on this sunny summer day. Temperatures were in the 80's and it wasn't very humid, so everyone was outside enjoying the fine weather.
Bronx Dominican Parade Route & After Party
The parade route runs from East Tremont Avenue south to 167th Street, which is about 1.5 miles in length. People were lined up along the street and most were from the Bronx and the majority of them appeared to be Dominican. I spoke with a few who were proud of their heritage as both Dominicans and Bronx born Americans. The parade began at 12 noon and was expected to end before 4 pm.
During the Bronx Dominican Parade weekend on Friday, Saturday & Sunday July 28 - 30 from 12 noon - 6 pm the Festival Popular Duartiano - along Clay Avenue between Claremont Parkway East and East 173rd Street in the South Bronx was in full swing. Many people were planning to saunter over to this festival following the parade. According to Bronx Borough President Ruben Diaz, there are over 200,000 Dominicans living in the Bronx.
---
---
Which Bronx & NYC Pols Support $8 Tolls To Cross 60th Street & East River Bridges?
Borough President Brewer, NYS Assemblyman Rodriguez, Cuomo's Deputy of Legislative Affairs Weprin & Many Manhattan CCM's Support $8 Tolls to Raise Capital for the MTA
NYS Governor Cuomo Supported Congestion Traffic Pricing in the Past & Cuomo's Deputy of Legislative Affairs Mark Weprin Is Supporting It
August 2016 / Bronx Neighborhoods / NYC Politics / News Analysis & Opinion / Bronx Buzz NYC.
The new Congestion Traffic Pricing Plan has been making its way into the legislative process over the past year. Just last week NYS Assemblyman Robert Rodriguez, a Democrat from Manhattan introduced the bill on March 23, 2016. The Move NY Congestion Traffic Pricing Plan is being sold into the legislature as a means to raise revenue to fund MTA Capital projects.
Manhattan Borough President Gale Brewer, NYS Assemblyman Robert Rodriguez, Cuomo's Deputy of Legislative Affairs Mark Weprin, CCM's Ydanis Rodriguez, Margaret Chin, Mark Levine & Corey Johnson support installing $8 tolls on 60th Street & East River bridges to raise capital for the MTA.
Governor Cuomo's Words Are ...
Governor Andrew Cuomo supported the Congestion Pricing Plan put forth years ago, which wasn't popular with many of the voters in Brooklyn & Queens. The two boroughs have a combined population which rounds to 5 million or 25% of the 20 million people who live in New York State.
Cuomo was quoted as making the following statement by the Observer in an article published a year ago on March 15, 2015,
"It's not, 'Can I support it?' Will the people support it? Can you get it done? Can you get a congestion plan passed and we've gone through this a couple of times and it was an overwhelming 'no' and I haven't seen anything happen that would change my opinion,"

The Governor has essentially been repeating this position publicly ever since.
Inconsistent with Governor Cuomo's Staff Actions
But while the Governor is publicly distancing himself from the measure which is unpopular in Queens and Brooklyn, former NY City Councilmember Mark Weprin, who is now Cuomo's Deputy of Legislative Affairs, has supported the Move NY Congestion Traffic Pricing Plan.
Weprin vehemently oppposed Congestion Traffic Pricing in 2008 when he was a NY City Councilmember, but in 2015 Weprin began publicly supporting the revised Congestion Traffic Pricing Plan as he transitioned from NY City Councilmember to becoming Cuomo's Deputy of Legislative Affairs. NYS Assemblyman David Weprin, Mark's brother, continues to publicly oppose the plan.
It's worth mentioning that the Weprins and the Cuomos have had close family political ties spanning two generations.
Move NY's 'New & Improved' Congestion Traffic Pricing Plan
We studied the Move NY Traffic Congestion Pricing proposal by first taking a closer look at what groups are pushing the plan [follow the money]. Gridlock Sam Schwartz Consulting LLC is one of the primary promoters of the plan, and the consulting company is owned in part by a large, multi-national, transit infrastructure contractor. We also evaluated the assumptions they used to create the estimates provided in the plan, which we found to be inconsistent with fairly recent independent studies by respectable institutions, and we also looked at what happened in one of the other cities around the world that implemented the plan.
In essence the plan retrofits [re-prices] the fossil fuel infrastructure, by making a significant investment to install and operate tolling around the center of Manhattan. The remaining proceeds would then go to fund other MTA capital projects [in London this was about half the proceeds]. The pricing would require those who can't afford the $8 tolls [each way] to either use mass transit [recent NYC metro studies have shown this switching doesn't happen] or to cross the bridge at other times at which time the tolls would cost less. The proponents say this would enable those who can afford the tolls to cross the East River bridges and 60th Street more quickly and move around mid Manhattan more easily [less traffic congestion with the rest of the community priced out of their way]. How 'democratic' is this?
Previously MTA Invests Billion$ in New Subways Appearing to Accommodate Billionaire Manhattan Developer(s) & Now Pols Want Metro Residents & Employees to Fund a System to Toll Tax Them to Fund MTA Capital Budget
The MTA during the Bloomberg (Republican) Administration made approximately $8 billion in MTA capital investments for about 30 to 40 blocks of Manhattan subway lines. One line travels from Times Square to the Javits Center [$2.4 billion mostly paid by city] and the other, which was strongly supported by NYC Comptroller Scott Stringer, is expected to travel along Second Avenue from
about East 60th Street to about East 86th Street when it is completed [ran way past budget and time estimates - currently about $5.2 billion].
The latter subway line has been called the 'subway to nowhere', while the other isn't much different - as it terminates at the Javits Center and billionaire real estate developer Steven Ross' & Related Companies' new Hudson Yards development - without any other subway connections. Pundits have opined that one [new #7 Hudson Yards station] and possibly both of these multi-billion dollar investments were made to accommodate Manhattan real estate developers [such as Ross], more than to facilitate transit for commuters and residents of New York City.
When I confronted an MTA spokesperson with this perspective, they told me that the Q line extension would alleviate a considerable amount of the congestion on the north / south east side Manhattan subway line, but made no comment regarding the Hudson Yards station.
The photos above show no passengers on the Javits subway [at an admittedly random time and not long after it was installed], while the second photo shows the #6 subway along the Upper East Side, also at a random time. The map to your right shows the new #7 subway line extension ending as an unconnected spur.
Perhaps if the MTA and the government officals who oversee MTA capital project spending were more judicious in their selection of multi-billion dollar projects and allocation of funds, they wouldn't need to make a huge investment of the public's money in the creation and operation of an expensive new tolling system which they plan to use to charge taxpayers $8 tolls to cross 60th Street and the East River Bridges.
This plan essentially aids the wealthy by making their lives easier, while economically discriminating against those with less wherewithal, by making their lives harder. This doesn't strike me as a solution that's 'democratic' at all. There must be less costly, more fair ways to raise additional revenue for transit that NYC commuters - not Manhattan real estate developers - really need.
CLICK HERE TO SCAN / READ THE FULL REPORT on the Move NY Congestion Traffic Pricing Plan.
---
Bronx Buzz Voluntary Subscriptions
We work very hard to help keep you informed by providing you with independent news coverage, as well as
information about events in the arts, culture and business in the borough.
You can help us continue to provide you with independent, first-person, fact-based, contextural reporting by purchasing an annual subscription. As it's voluntary, there are a variety of price options, one of which should fit within your budget.
Thanks for your encouragement & support.
---
Back To Top